SH-BOOM! The Power of Positive Aging
by Douglas A. Cox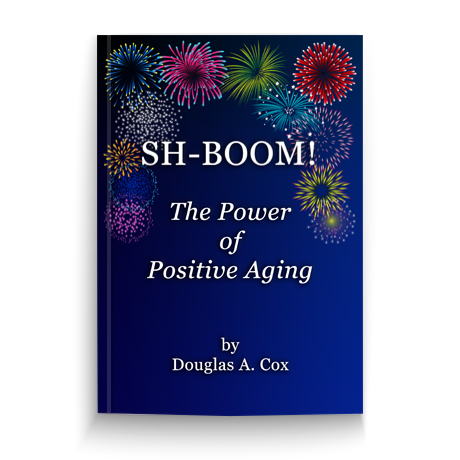 $16.50
Click here to buy it on Amazon.
SH-BOOM is also available as an Audio Book!
[Length: 1:41:44 / Digital Download: 244.2MB]
This book is for and about, Sh-Boomers! If you are between the ages of 50 and 100, you are a Sh-Boomer! From the moment our life begins, the process of aging begins! We feel and live, either younger or older, depending on how we deal with this adventure called life and time. This book is about how we can choose to make our way more courageously, into a world where we have never gone before. Sh-Boom contains simple steps that you can use to help deal with diminished hearing, eyesight, memory and perhaps increasing pain. Though our bodies make noises when we stand up and our movements are a bit slower than they once were; Sh-Boom asks the question, "So What?" Through the wisdom and stories contained in these pages, you will learn and practice the secrets of rekindling the hope, joy and well-being that comes with understanding The Power of Positive Aging!
---
Comments on Amazon
Loved this Book!
An awesome book! It not only sparks the imagination but reminds us that our dreams can be achieved! It's a must read for all SH-Boomers! I Truly loved this book!
Joe Red Feather McKnight
LOVED this book
Douglas has a gift for inspiring through his words and experiences. I loved this book and read and re-read it often. There is something in this book for everyone.
Twila
Not only for Boomers!
What a joy to read! It's one of those books you read more than once; totally enlightening and life affirming. It's about time there's a nice book about getting older as we all hope to do; it doesn't have to be a downer anymore…Life is good and Doug Cox shows us how to enjoy every moment. You just feel his energy jump from the pages… Thanks from a grateful reader!
Linda W
Sh-Boom is a Must Read!!
This is a very thought-provoking book for those of us who want to age gracefully and to remember what things made us happy in years past. I have worked with Doug in the Hospitality Industry and I see his positive attitude reflected in this book. I use many of his suggestions to express gratitude and to keep moving and stay connected.
Armommi
Sh-Boom Adds Prospective To Our Life
How our lives change is up to us, how we move forward is again our choice. Read a fulfilling guide to the future of your life. Thank you Douglas A. Cox
Richard Asztalos
SH – Boom ! The Power of Positive Aging. "It's a Winner" !!!!!
Doug Cox, You hit this life journey right on the nail. I absolutely love this book . Read it twice already. It's an enlightening eye opener to a positive feeling of just happy to be alive & to eventually become humble, at any age. Acceptance is a huge part and yet a wonderful feeling of your well being. The author, wrote this book in such a way, you honestly will finish it in no time. The chapter of how and why we hang onto relics in our minds is so enjoyable. For instance, an old song we just never get out of our head. What a fabulous gift…….Thank you Doug for yet another motivational class act.
Lori Bermani
Doug Cox does it again!!!
His work strikes a cord with the best in people.
Amazon Customer
Doug's book is a quick easy straight forward read
Doug's book is a quick easy straight forward read. Having known Doug since 2007, he is a man of character, boundless energy, joy for people with an unrivaled human spirit for life. You "Will" find Doug's book an enlightening read for not just the targeted audience age of 50 – 100 but all ages.
Amazon Customer
You'll love it!
Easy and Enjoyable Read! Highly recommend!
Gerald Corbett
Five Stars
Great book
Mary Ann Piper
Best book I've read all year!
Excellent book. One of the best reads of the year! The author is genius!!
Rene W. Guim
TERRIFIC READ, BUYING IT FOR ALL OF MY 50+ FRIENDS
Terrific, buying it for all of my 50+ friends …
Amazon Customer
A FEEL-GOOD book!
I've had the pleasure of knowing Doug for many years. I am so proud of him for writing this book! It's positively transformational. Doug's gentle spirit, optimism, and ability to see the best in people makes him such a natural leader and healer – and it comes through beautifully in his writing. This book makes you feel so good, you'll be excited to share it with all of your friends. It truly is the perfect gift! Thank you, Doug, for filling our world with light and love! *hug*
Linda A. Bell
---
Additional Comments & Testimonials
for "SH-BOOM! The Power of Positive Aging"
We both want you to know that we really enjoyed your new book SH-Boom! The message was perfect and you are so right… There is enormous satisfaction and power in Positive Aging!!! We would recommend it to anyone of any age as so much of it is helpful in enjoying life to its fullest.
John Paul De Joria and Luke Jacobellis
One of the best books I have ever read. Brilliantly written, great examples, wonderful life experiences you shared. Powerful, meaningful, insightful! I really enjoyed "My two cents" comments. I am overwhelmed in the BEST way. Execution marvelous!
Bruce Merrin, Celebrity Speakers
Just flew home from New York and Intercoiffure. I read your new book which is fabulous!!! Your heart, your soul and your words touched me… Love to you
Oliver Steinnagel
Doug Cox, you hit this life journey right on the head. Thank you Doug for yet another motivational class act!
Lori Bermani
Just wanted to send quick thanks for SH-Boom. Every time we open it we find something new to focus on. Your insights are a true inspiration that we will continue to study throughout our lives… We Love you.
Jim and Gena Sheeran
Just finished reading your wonderful book. I heard your voice as if you were reading out loud to me. Thank you, Doug Cox
Kathleen Ann Donovan Victor
Excellent book! One of the best reads of the year. Read it twice. The author is a genius!
Rene Guim
An awesome book! It not only speaks to the imagination but reminds us that our dreams can be achieved! It is a must read!
Joe Red Feather McKnight
Sh-Boom is a book filled with humor, encouragement, acts of kindness and a true celebration of life. Surely after reading this wonderful book we may all be better people for it and begin enjoying our lives to their fullest! Thank you Doug Cox for taking the time to share with your readers such a masterpiece!!
Lynn Newby
Doug Cox makes people happy. That is his apparent role in life. I get happy just thinking about him. He has taken that quality and has written a happy book, in which he is able to take his life stories and infuse them with his tremendous enthusiasm for life, and turn them into life lessons. I encourage everyone to read this book!
David Olansky M.D.
You cannot afford to miss the wisdom at your fingertips this book will provide.Sh –BOOM!
Christopher Daly