"A Miracle In My Hands: A Stylist's Inspiration"
(for Salon Stylists) by Douglas A. Cox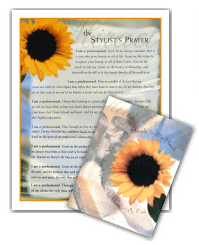 This booklet is filled with inspiration and empowerment for today's stylist, plus a beautiful poster with the Stylist's "Golden Rule."
A Stylist's Inspiration
All Cosmetologists who graduate from beauty school are given a license to do hair, skin, and nails.
Of these, some become skilled technically and artistically.
Out of those, a handful will learn the art of styling their clients' feelings.
Out of that handful, only one will develop the gift of seeing.
Only one will learn the timeless secret of styling the spirit of the one who sits in the chair.
That one is a "True Professional."
These are the ones who choose to deep the promise to fulfill the dream.
This book (and poster) is for those who have the gift and for those who seek this high and worthwhile calling for their lives.
Booklet : $2.95 + Shipping
Booklet (En Español): $2.95 + Shipping
11″x14″ Poster: $10.00 + Shipping
(ships in a USPS mailing tube)
11″x14″ Poster (En Español): $10.00 + Shipping
(ships in a USPS mailing tube)